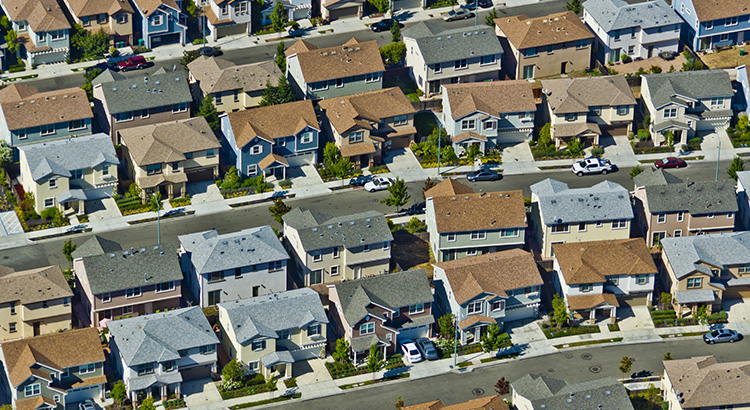 If you're following mortgage rates because you know they impact your borrowing costs, you may be wondering what the future holds for them. Unfortunately, there's no easy way to answer that question because mortgage rates are notoriously hard to forecast.
But, there's one thing that's historically a good indicator of what'll happen with rates, and that's the relationship between the 30-Year Mortgage Rate and the 10-Year Treasury Yield. Here's a graph showing those two metrics since Freddie Mac started keeping mortgage rate records in 1972: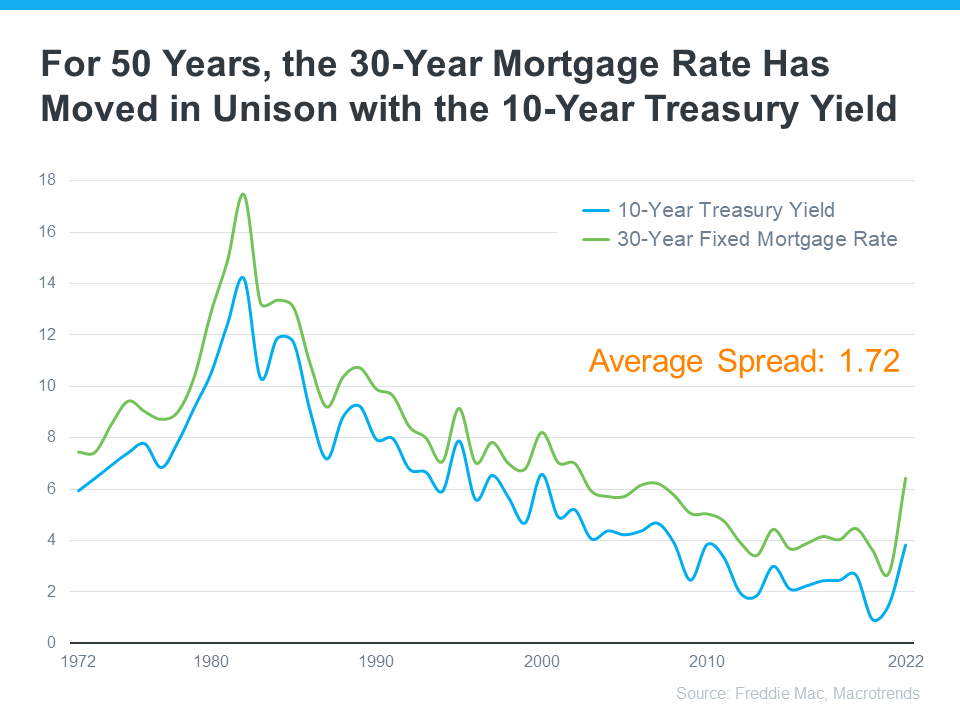 As the graph shows, historically, the average spread between the two over the last 50 years was 1.72 percentage points (also commonly referred to as 172 basis points). If you look at the trend line you can see when the Treasury Yield trends up, mortgage rates will usually respond. And, when the Yield drops, mortgage rates tend to follow. While they typically move in sync like this, the gap between the two has remained about 1.72 percentage points for quite some time. But, what's crucial to notice is that spread is widening far beyond the norm lately (see graph below):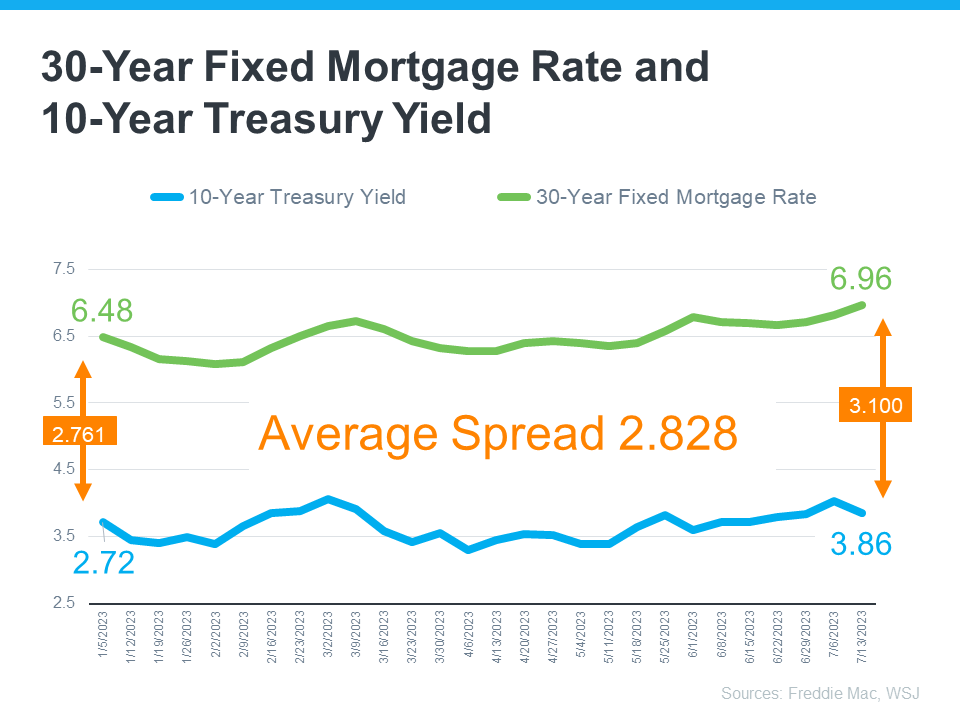 If you're asking yourself: what's pushing the spread beyond its typical average? It's primarily because of uncertainty in the financial markets. Factors such as inflation, other economic drivers, and the policy and decisions from the Federal Reserve (The Fed) are all influencing mortgage rates and a widening spread.
Why Does This Matter for You?
This may feel overly technical and granular, but here's why homebuyers like you should understand the spread. It means, based on the normal historical gap between the two, there's room for mortgage rates to improve today.
And, experts think that's what lies ahead as long as inflation continues to cool. As Odeta Kushi, Deputy Chief Economist at First American, explains:
"It's reasonable to assume that the spread and, therefore, mortgage rates will retreat in the second half of the year if the Fed takes its foot off the monetary tightening pedal . . . However, it's unlikely that the spread will return to its historical average of 170 basis points, as some risks are here to stay."
Similarly, an article from Forbes says:
"Though housing market watchers expect mortgage rates to remain elevated amid ongoing economic uncertainty and the Federal Reserve's rate-hiking war on inflation, they believe rates peaked last fall and will decline—to some degree—later this year, barring any unforeseen surprises."
Bottom Line
If you're either a first-time home buyer or a current homeowner thinking of moving into a home that better fits your current needs, keep on top of what's happening with mortgage rates and what experts think will happen in the coming months.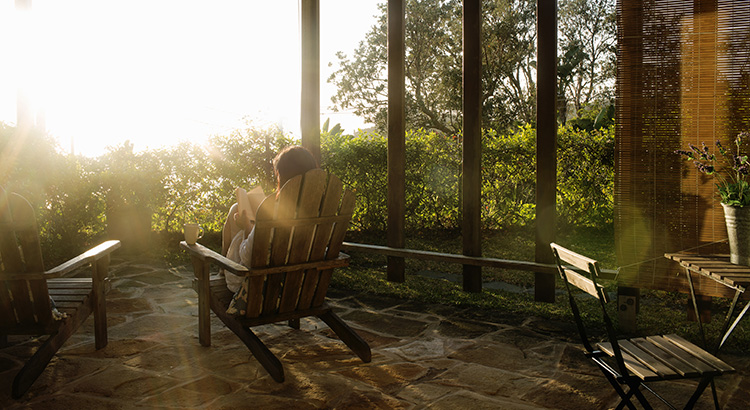 You may have heard some people say it's better to rent than buy a home right now. But, even today, there are lots of good reasons to become a homeowner. One of them is that owning a home is typically viewed as a good long-term investment that helps your net worth grow over time.
Homeownership Builds Wealth Regardless of Income Level
You may be surprised to learn homeowners across various income levels have a much higher net worth than renters who make the same amount. Data from First American helps illustrate this point (see graph below):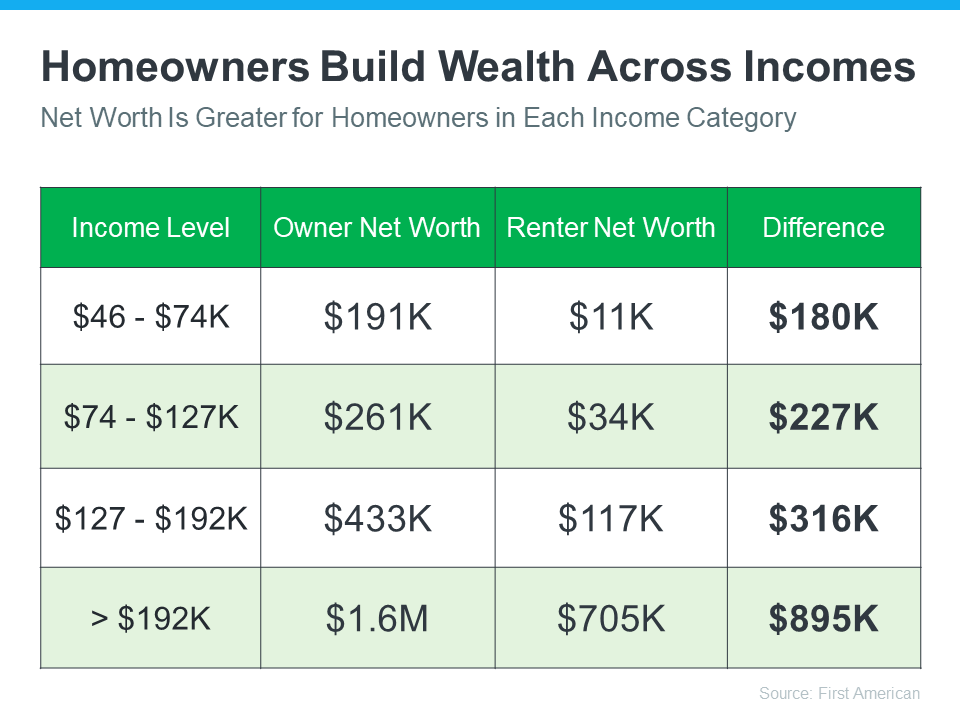 What makes wealth so much higher for homeowners? A recent article from Realtor.com says:
"Homeownership has long been tied to building wealth—and for good reason. Instead of throwing rent money out the window each month, owning a home allows you to build home equity. And over time, equity can turn your mortgage debt into a sizeable asset."
Basically, the wealth you accumulate when you own a home has a lot to do with equity. As a homeowner, equity is built up as you pay down your loan and as home prices appreciate over time. Mark Fleming, Chief Economist at First American, explains how this same benefit isn't true for renters in a recent podcast:
"Renters as non-homeowners gain no wealth benefit as home prices rise. That wealth actually accrues to the landlord."
Before you decide to sign another rental agreement, now is a good time to think about whether it would be better for you to buy a home instead. The best way to figure out what makes sense for you is to have a conversation with a real estate expert you trust. That professional can talk you through the benefits that come with owning to determine if that's the right next step for you.
Bottom Line
If you're not sure whether to keep renting or to buy a home, know that owning a home, no matter how much money you make, can help build your wealth. Let's connect now to get started on the path to homeownership.
Welcome to North Phoenix Real Estate Company, where excellence meets expertise in real estate. 
Founded and operated by the dynamic husband and wife duo Jeff & Lisa Armbruster, our company boasts over 20 years of invaluable experience in the Arizona real estate landscape. 
Specializing in various real estate services, including single-family homes, luxury estates, and even horse ranch properties, we have established ourselves as the go-to experts for buyers and sellers.
In today's rapidly evolving and fiercely competitive market, we take pride in guiding our clients toward the most favorable outcomes, all backed by our Performance Satisfaction Guarantee. 
As the top real estate agents in Phoenix, AZ, we are producers and holders of prestigious designations like CLHMS, MRP, and LPS. We promise that your real estate journey with us will be marked by success, satisfaction, and an excellent experience.
About Jeff & Lisa Armbruster
With a combined experience of more than two decades, Jeff and Lisa Armbruster are not just real estate agents; they are your dedicated partners in achieving your ultimate real estate dreams. 
Their wealth of knowledge spans various facets of the industry, from property listings and negotiation strategies to luxury home marketing and military relocations. Their commitment to excellence has made them the most sought-after industry leaders, and their passion for what they do shines through in every transaction they undertake.
Our Specializations
North Phoenix Real Estate Company – the best realtor in Scottsdale, AZ, specializes in products that cater to every facet of your real estate journey. 
With our founders at the helm of our company and backed by their extensive experience and industry recognition, you can trust us with your goals. They are in skillful hands. Here's what we offer:
Property Listings
Selling a property can be daunting, especially in today's competitive market. Our expertise as the best realtors in Phonix ensures that your property listings stand out. 
Through our comprehensive market analysis and a deep understanding of current trends, we strategically position your property to attract the right buyers. Our network of connections and cutting-edge marketing strategies guarantee maximum exposure, leading to quicker and more lucrative sales.
Home Estimate and Seller Services
Accurately pricing your home can attract potential buyers. Our team of the best realtors in Phoenix provides thorough home estimates, considering location, property condition, and market trends. 
Armed with this knowledge, we guide you in setting a competitive price reflecting your property's value. 
In addition, our seller services encompass every step of the selling process, from staging and photography to negotiation and closing, ensuring a seamless transaction from start to finish.
Move Meter and Buyer Services
Buying a home is a monumental decision, and at North Phoenix Real Estate Company – the best realtor 'near me' in Scottsdale, we treat it as such. 
Our Move Meter tool gauges your preferences and priorities, helping us match you with properties that align with your lifestyle and needs. 
Furthermore, our buyer services go beyond finding a house; we focus on finding you a home. With a personalized approach, we shall guide you through property showings, negotiations, and due diligence, ensuring you make an informed and confident purchase.
Your Home Value and Equity
Understanding your home's value and equity is essential whether you're considering selling or making future financial decisions. 
Our expert insights and market analysis as the best North Phoenix real estate firm clearly understands your property's worth and growth potential. This knowledge helps you make informed decisions regarding your real estate investment.
Service Areas
Phoenix and Scottsdale
We operate in the dynamic communities of Phoenix and Scottsdale. Moreover, we intimately understand these locales' unique characteristics and real estate landscapes. 
Whether you're looking for a modern urban dwelling in Phoenix or a luxurious retreat in Scottsdale, our expertise ensures that you find the perfect property that aligns with your vision and lifestyle.
Our Commitment
We are committed to being the best real estate agent near you in Phoenix, and our specialized services underline Scottsdale. 
As the best realtor in Scottsdale, AZ, we bring unparalleled expertise. When searching for the best realtor near me in Scottsdale, Jeff & Lisa Armbruster will be at the forefront. Recognized as one of the best realtors in Phoenix.
Our track record of success and dedication to our client's needs speaks volumes.
Call Us Today!
In a market as competitive and intricate as real estate, having a team specializing in every facet of the journey is crucial. 
North Phoenix Real Estate Company is not just a brokerage; we are your partners, guiding you through the complexities of property transactions with professionalism, integrity, and a commitment to your success.
Contact us today to experience the difference expertise and dedication can make in your real estate endeavors.
Discovering the Hidden Gems of North Phoenix
North Phoenix is a haven of hidden gems, offering prospective homebuyers a range of neighborhoods that combine stunning natural beauty, thriving communities, and convenient access to urban amenities. 
In this article, we will explore some of the must-visit areas in North Phoenix, highlighting their unique characteristics and available listings. 
North Phoenix Real Estate Company is a name you can trust. We are the best real estate company in Phoenix, and we promise to navigate the real estate market and find your dream home.
Furthermore, we are an experienced firm dedicated to assisting homebuyers in finding their perfect properties in North Phoenix. With a deep understanding of the local market and a commitment to personalized service, we offer a range of listings to suit different preferences and budgets. 
So, whether you're seeking a modern masterpiece, a luxurious estate, or a charming family home, North Phoenix Real Estate Company can guide you in your search and make the homebuying process a seamless and enjoyable experience.
Must-See Listings in North Phoenix
For North Phoenix, we have the following listings on offer:
Paradise Valley: Listing: 7620 N Red Ledge Drive Paradise Valley, AZ 85253Active (78 Days) 
Description: This mountainside estate was built and re-designed in collaboration with Incline Builders and Architekshon, Inc., and it's a true modern masterpiece. Situated on nearly 11.5 acres, this property offers unparalleled views, privacy, and exclusivity within a short distance of world-class resorts, dining, and shopping. 
The main house spans 13,000 sq ft, complemented by a 2,500 sq ft guest house. With its high ceilings, expansive windows, gym, office, movie theater, wine cellar, and pools, this residence embodies luxury and sophistication.
Paradise Valley: Listing: 5247 N Invergordon Road Paradise Valley, AZ 85253Active (344 Days)
Description: Known as "The Royal Chateau," this exquisitely remodeled estate offers breathtaking views of Camelback Mountain. 
With seven bedrooms and 13 bathrooms, this home boasts luxurious finishes and top-of-the-line amenities. 
The property features a custom 600-bottle wine cellar, 7-car garages with AC, a chef's kitchen, a state-of-the-art home theater, and two separate guest houses. 
Outdoor entertaining spaces complete the picture, providing ample room for relaxation and enjoyment.
Paradise Valley: Listing: 7540 N Red Ledge Drive Paradise Valley, AZ 85253Active (279 Days) 
Description: Inspired by Frank Lloyd Wright, this modern mountainside estate was designed and built on the highest-view lot available in Paradise Valley. 
Spanning 5.01 acres, this residence offers privacy and spectacular views. This home showcases contemporary elegance and design with 10 to 12-foot ceilings, open rooms with expansive windows, his and her offices, a gym with a sauna, a movie theater, a negative edge pool, a pool cabana, and a 5-car garage.
Paradise Valley: Listing: 6044 N 44th Place Paradise Valley, AZ 85253Active (134 Days) 
Description: This spectacular single-level hilltop estate provides 360-degree views of the city and mountains. 
As you enter through the gated circular drive, you'll be greeted by soaring ceilings, walls of glass, and luxurious finishes. 
The primary suite features oversized baths, customized closets, and a fireplace, while the west wing includes a spacious office and a gym. With breathtaking views and meticulously designed interiors, this home promises comfort and sophistication.
Paradise Valley: Listing: 7256 N 40th Street Paradise Valley, AZ 85253Active (210 Days) 
Description: Nestled into the canyon and inspired by the natural wonders of the desert, this architectural marvel offers captivating organic shapes and stunning rooflines.
The property features oversized windows, pocket doors, and glass bridges that connect the living spaces and embrace the picturesque surroundings. 
With an emphasis on indoor-outdoor living, this home provides panoramic views of Camelback Mountain, a private main suite, entertainment areas, a deck, and an infinity pool.
For more listings in the North Phoenix area, check out our website.
Conclusion
North Phoenix is a treasure trove of hidden gems, and these must-see listings showcase the diverse range of properties available in the area. 
Whether you're seeking modern elegance, luxurious estates, or breathtaking views, North Phoenix has something to offer every homebuyer. 
To explore more listings and find your dream home in North Phoenix, visit the North Phoenix Real Estate Company website. We are the experts and promise to help you find the perfect property that meets your unique needs and desires.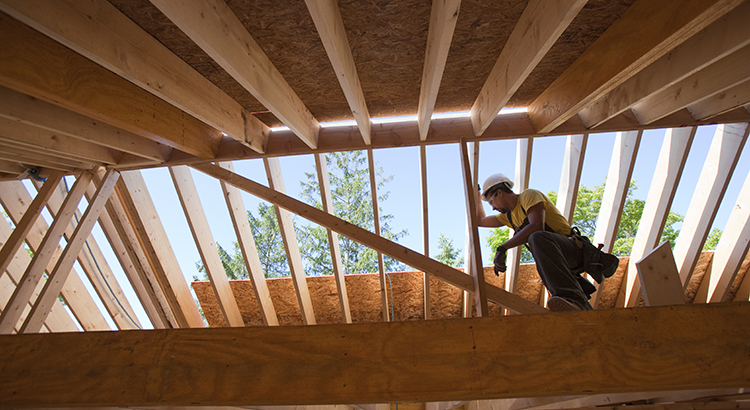 Do you want to sell your house, but hesitate because you're worried you won't be able to find your next home in today's market? You're not alone, but there's some good news that may ease your worries. New home construction is up and is becoming an increasingly significant part of the housing inventory.
That means when you go to put your house on the market this summer, considering newly built homes is crucial for expanding the options you'll have for your next move.
Near-Record Percentage of New Home Inventory
Newly built homes today make up a near-record percentage of the total number of homes available for sale (see graph below):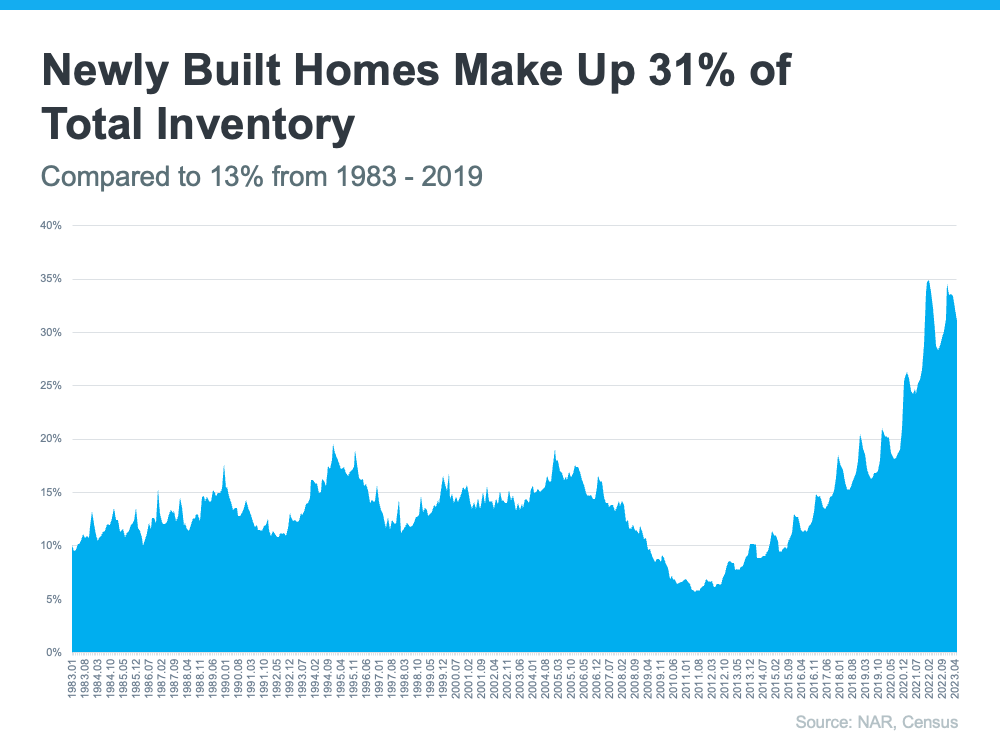 In fact, as the data shows, newly built homes now make up 31% of the total for-sale inventory. Over the past couple of decades, newly built homes made up an average of only around 13% of total housing inventory from 1983 to 2019.
That means the percentage of the total available homes that are newly built is over two times higher than the norm.
Why This Matters to You
Overall, the supply of homes for sale is still low. And when there's limited supply, it's crucial to explore all of your available choices. New-home construction has emerged as a game changer with increasing inventory. Not to mention, recent data shows it's gaining even more momentum as more newly built homes are underway and will be coming to the market in the months ahead.
Robert Dietz, Chief Economist at the National Association of Home Builders (NAHB), highlights the importance of newly built homes for those looking to buy in today's housing market. Dietz states:
"With limited available housing inventory, new construction will continue to be a significant part of prospective buyers' search in the quarters ahead."
Don't overlook this growing market segment and risk missing out on great opportunities to find your ideal home. Since new home construction accounts for roughly 31% of total for sale inventory, you could be cutting nearly one in three options from your search if you don't consider newly built homes.
If you're looking to make a move, a local real estate agent can help you sell your current house and explore newly built options in your area. They have the expertise you need to handle both sides of the process so you can move out of your current house and into your brand-new dream home.
Bottom Line
Now's the time to sell your house and take advantage of the momentum that's building in new home construction. Let's connect so you have a guide throughout the selling and buying process. Together, we can make your transition to a newly built home a reality.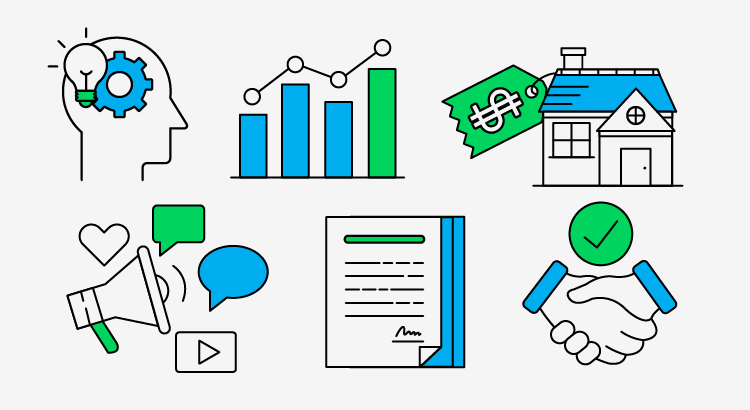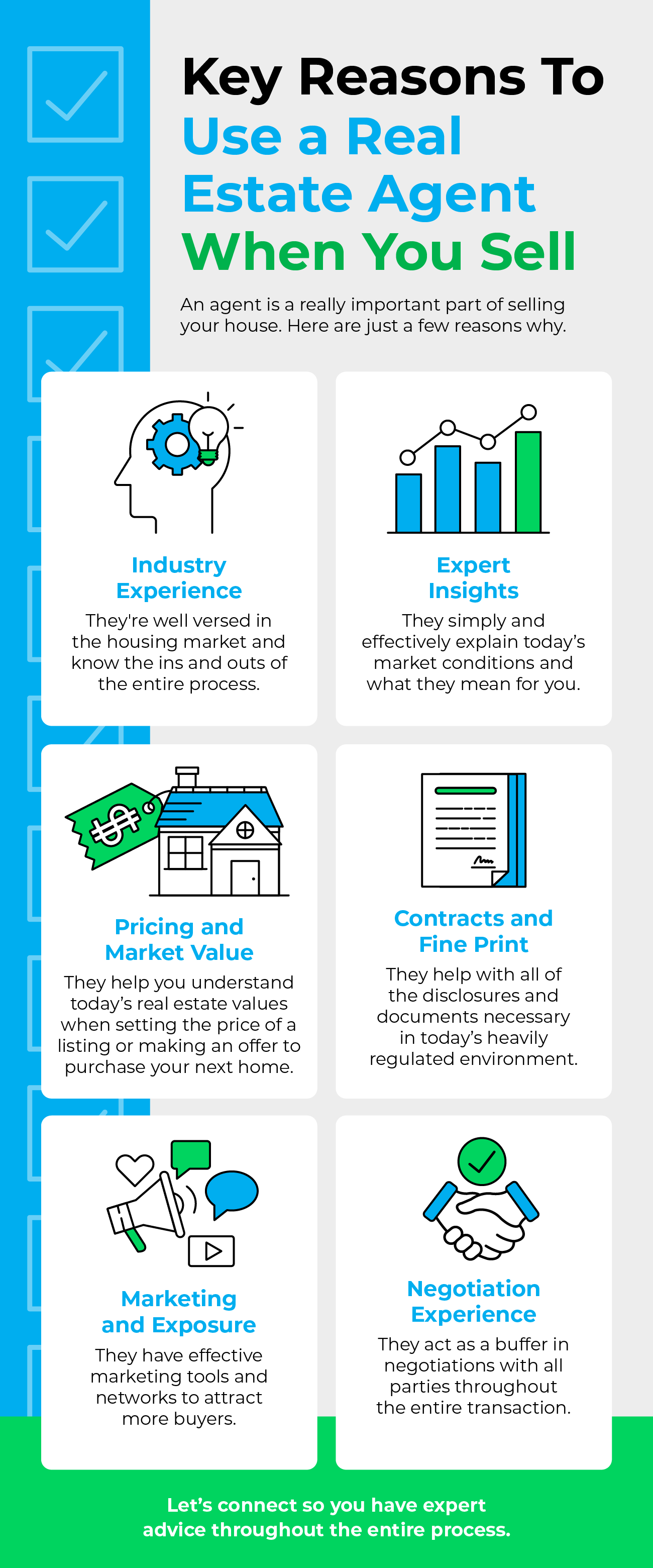 Some Highlights
An agent is a really important part of selling your home because they bring a lot of skill and expertise to the sales process.
They'll explain what's happening today, what that means for you, and how to price and market your house. They're also skilled negotiators and well versed in the contracts and disclosures involved.
Let's connect to ensure you have an expert helping you sell your house successfully.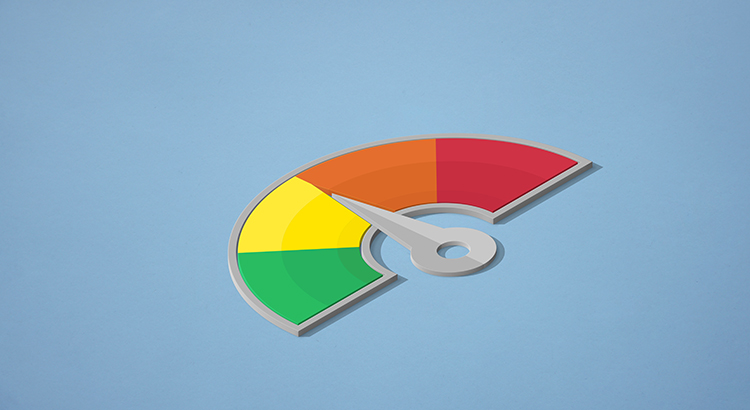 If you're thinking about buying a home, you should know your credit score's a critical piece of the puzzle when it comes to qualifying for a home loan. Lenders review your credit to assess your ability to make payments on time, to pay back debts, and more. It's also a factor that helps determine your mortgage rate. An article from Bankrate explains:
 "Your credit score is one of the most important factors lenders consider when you apply for a mortgage. Not just to qualify for the loan itself, but for the conditions: Typically, the higher your score, the lower the interest rates and better terms you'll qualify for."
This means your credit score may feel even more important to your homebuying plans right now since mortgage rates are a key factor in affordability, especially today. According to the Federal Reserve Bank of New York, the median credit score in the U.S. for those taking out a mortgage is 765. But, that doesn't mean your credit score has to be perfect. An article from Business Insider explains generally how your FICO score range can make an impact:
". . . you don't need a perfect credit score to buy a house. . . . Aiming to get your credit score in the 'Good' range (670 to 739) would be a great start towards qualifying for a mortgage. But if you're wanting to qualify for the lowest rates, try to get your score within the 'Very Good' range (740 to 799)." 
Working with a trusted lender's the best way to get more information on how your credit score could factor into your home loan and the mortgage rate you're able to get. As FICO says:
"While many lenders use credit scores like FICO Scores to help them make lending decisions, each lender has its own strategy, including the level of risk it finds acceptable. There is no single "cutoff score" used by all lenders and there are many additional factors that lenders may use to determine your actual interest rates."
If you're looking for ways to improve your score, Experian highlights some things you may want to focus on:
Your Payment History: Late payments can have a negative impact by dropping your score. Focus on making payments on time and paying any existing late charges quickly.
Your Debt Amount (relative to your credit limits): When it comes to your available credit amount, the less you're using, the better. Focus on keeping this number as low as possible.
Credit Applications: If you're looking to buy, don't apply for other credit. When you apply for new credit, it could result in a hard inquiry on your credit that drops your score.
When you're ready to start the homebuying process, a lender will be able to assess which range your score falls in and tell you more about the specifics for each loan type.
Bottom Line
With affordability challenges today, prioritizing ways you can have a positive impact on your credit score could help you get a better mortgage rate. If you want to learn more, let's connect.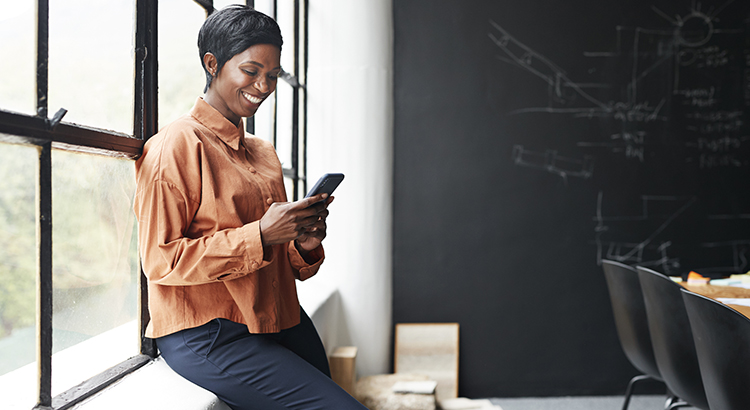 If you're planning to buy your first home, then you're probably focused on saving for all the costs involved in such a big purchase. One of the expenses that may be at the top of your mind is your down payment. If you're intimidated by how much you need to save for that, it may be because you believe you must put 20% down. That doesn't necessarily have to be the case. As the National Association of Realtors (NAR) notes:
"One of the biggest misconceptions among housing consumers is what the typical down payment is and what amount is needed to enter homeownership."
And a recent Freddie Mac survey finds:
". . . nearly a third of prospective homebuyers think they need a down payment of 20% or more to buy a home. This myth remains one of the largest perceived barriers to achieving homeownership."
Here's the good news. Unless specified by your loan type or lender, it's typically not required to put 20% down. This means you could be closer to your homebuying dream than you realize.
According to NAR, the median down payment hasn't been over 20% since 2005. In fact, the median down payment for all homebuyers today is only 14%. And it's even lower for first-time homebuyers at just 6% (see graph below):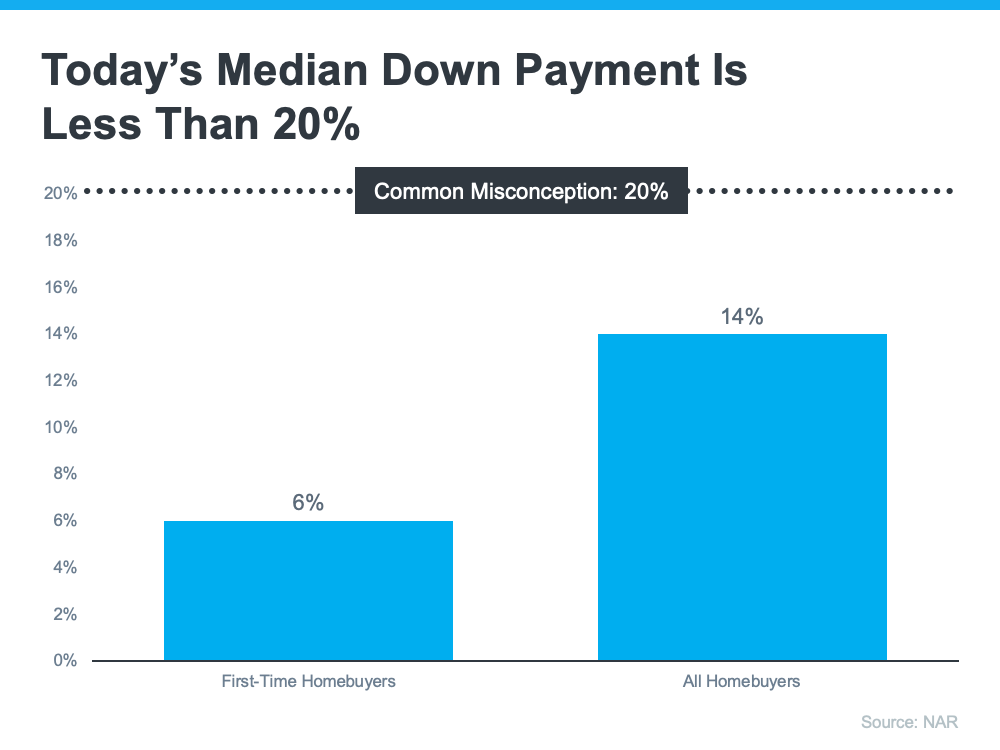 What does this mean for you? It means you may not need to save as much as you originally thought.
Learn About Options That Can Help You Toward Your Goal
And it's not just how much you need for your down payment that isn't clear. There are also misconceptions about down payment assistance programs. For starters, many people believe there's only assistance available for first-time homebuyers. While first-time buyers have many options to explore, repeat buyers have some, too.
According to Down Payment Resource, there are over 2,000 homebuyer assistance programs in the U.S., and the majority are intended to help with down payments. That same resource goes on to say:
"You don't have to be a first-time buyer. Over 38% of all programs are for repeat homebuyers who have owned a home in the last 3 years."
Plus, there are even loan types, like FHA loans with down payments as low as 3.5% as well as options like VA loans and USDA loans with no down payment requirements for qualified applicants.
If you're interested in learning more about down payment assistance programs, information is available through sites like Down Payment Resource. Then, partner with a trusted lender to learn what you qualify for on your homebuying journey.
Bottom Line
Remember, a 20% down payment isn't always required. If you want to purchase a home this year, let's connect to start the conversation about your homebuying goals.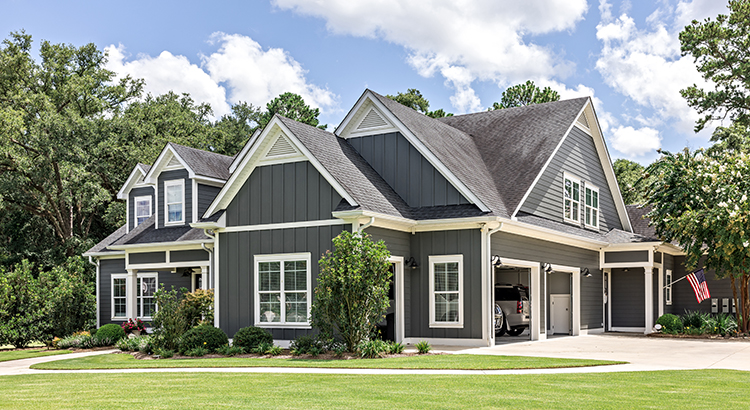 If you're thinking about buying or selling a house, it's important to know that it doesn't just affect your life, but also your community.
The National Association of Realtors (NAR) releases a report every year to show how much economic activity is generated by home sales. The chart below illustrates that impact: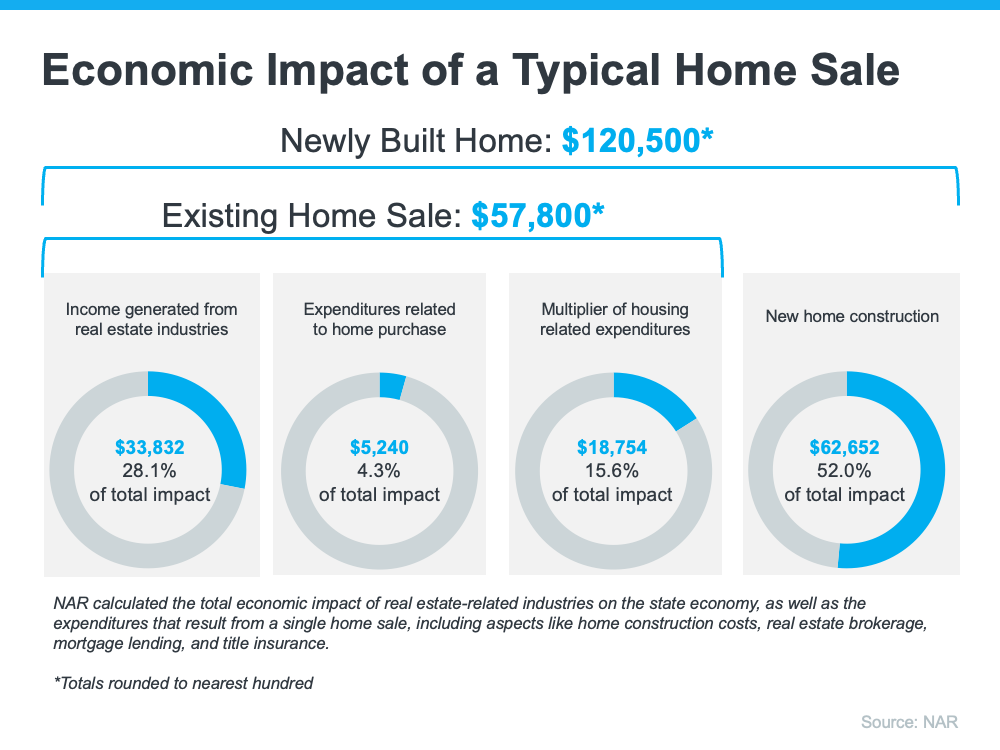 As the visual shows, when a house is sold, it can make a big difference in the local economy. The impact comes largely from the workers required to build, update, and buy and sell homes. Robert Dietz, Chief Economist at the National Association of Home Builders (NAHB), explains how the housing industry adds jobs to a community:
"The economic impact means housing is a significant job creator. In fact, for every single-family home built, enough economic activity is generated to sustain three full-time jobs for a year, per NAHB research. . . . And one job for every $100,000 in remodeling spending."
Housing being a major job creator makes sense when you consider there are many different industries involved in the process. A recent article from Fortune notes housing activity could have a more robust impact than you think due to the many ways it's tied to the economy:
"Housing has three direct linkages to economic activity (GDP): the construction of new homes, the remodeling of existing homes, and that of housing transactions. . . . consider the activity associated with home sales – think broker fees, lawyers, etc. – which are a sizable contributor to housing's GDP footprint."
When you buy or sell a home, you work with a team of professionals, including contractors, specialists, lawyers, and city officials. Each person plays a role in making the transaction happen.
So, when you make a move in the housing market, you're not just meeting your own needs, you're also making a positive impact on the community. Knowing this can give you a sense of empowerment as you make your decision this year.
Bottom Line
Each and every home sale is important for the local economy. If you're ready to move, let's connect. It won't just change your life – it'll also have a strong positive effect on the whole community.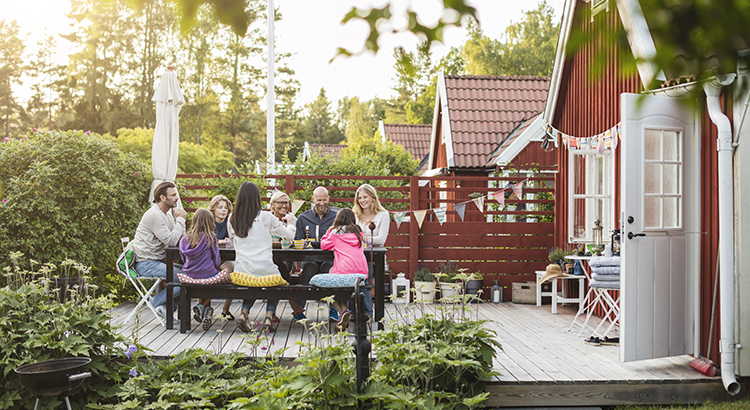 If you're thinking about selling your house right now, chances are it's because something in your life has changed. And, while things like mortgage rates are a key part of your decision on what you'll buy next, it's important to not lose sight of the reason you want to make a change in the first place.
It's true mortgage rates have climbed from the record lows we saw in recent years, and that has an impact on affordability. With rates where they are right now, some homeowners are deciding they'll wait to sell because they don't want to move and have a higher mortgage rate on their next home. As Danielle Hale, Chief Economist at Realtor.com, explains:
". . . homeowners who locked in a 30-year fixed rate in the 2-3% range don't necessarily want to give that up in exchange for a rate in the 6-7% range."
But your lifestyle and your changing needs should matter more. Here are a few of the most common reasons people choose to sell today. Any one of these may be more important than keeping your current mortgage rate.
As Ali Wolf, Chief Economist at Zonda, says in a recent tweet:
"First-time and move-up buyers are both active . . . the latter driven by life changes. Divorce, marriage, new higher paid job, and existing home unsuitable all referenced."
Relocation
Some of the things that can motivate a move to a new area include changing jobs, a desire to be closer to friends and loved ones, wanting to live in a dream location, or just looking for a change in scenery.
For example, if you live in suburbia and just landed your dream job in NYC, you may be thinking about selling your current home and moving to the city for work.
Upgrading
Many homeowners decide to sell to move into a larger home. This is especially common when there's a need for more room to entertain, a home office or gym, or additional bedrooms to accommodate a growing number of loved ones.
For example, if you're living in a condo and decide it's time to seek out a home with more space, or if your household is growing, it may be time to find a home that better fits those needs.
Downsizing
With inflation driving up everyday expenses, homeowners may also decide to sell to reduce maintenance and costs. Or, they may sell because someone's moved out of the home recently and there's now more space than needed. It could also be that they've recently retired or are ready for a change.
For example, you've just kicked off your retirement and you want to move to somewhere you can enjoy the warm weather and have less house to maintain. Your new lifestyle may be better suited for a different home.
Change in Relationship Status
Divorce, separation, or marriage are other common reasons individuals sell to buy different homes.
For example, if you've recently separated, it may be difficult to still live under one roof. Selling and downsizing may be better options.
Health Concerns
If a homeowner faces mobility challenges or health issues that require specific living arrangements or modifications, they might sell their current home to find one that works better for them.
For example, you may be looking to sell your home and use the proceeds to help pay for a unit in an assisted-living facility. 
With higher mortgage rates, there are some affordability challenges right now – but your needs and your lifestyle matter too. As a recent article from Bankrate says: 
"Deciding whether it's the right time to sell your home is a very personal decision. There are numerous important questions to consider, both financial and lifestyle-based, before putting your home on the market. . . . Your future plans and goals should be a significant part of the equation . . ."
Bottom Line
If you're ready to sell your house so you can make a move, let's connect so you have an expert on your side to help you navigate the process and find a home that can deliver on what you're looking for.