North Scottsdale offers residents and tourists alike numerous fun activities. Sunshine and memorable excursions attract countless vacationers to this incredible destination. The year-round comfortable temperatures make North Scottsdale one of the best places to live in Arizona.
Whether you are a first-time visitor or a long-term resident of this gorgeous town,
North Scottsdale
has outdoor excursions for everyone, and the ability to enjoy these activities throughout the entire year adds to North Scottsdale's prominence. Travel from one place to another in style using the options discussed below.
Take a hot air balloon ride
What could be more fun than flying in a balloon whenever you want? Scottsdale boasts sunshine for most months of the year, meaning you can share the thrill of floating over the Sonoran Desert in a hot air balloon virtually all year. You can mark critical events such as birthdays and anniversaries with this exciting flight over the desert. Both private and shared flights are offered by companies like
Rainbow Ryders
and Hot Air Expeditions.
Walk around Chaparral Park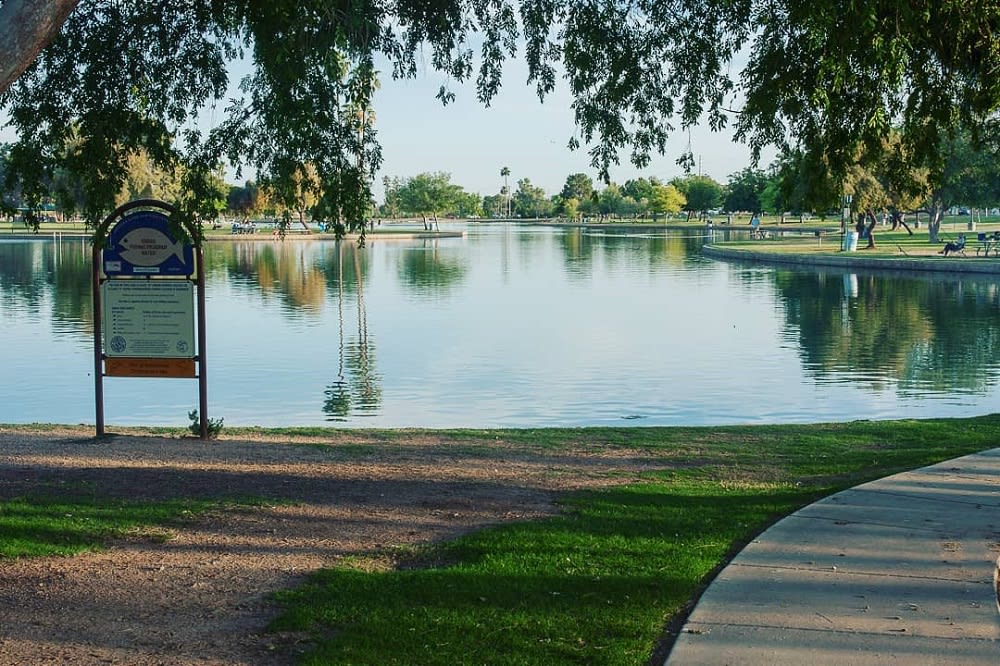 Photo courtesy of Scottsdale Parks & Recreation
Outdoor playtime is always enjoyable at Chaparral Park. Walk and bike along the evergreen Indian Bend Wash Trail as you enjoy the relaxing breeze emanating from the park's 10-acre lake. You can even join the anglers or read your favorite book at the lakeside.

The fun in the park extends to sports, especially during the weekend, as residents and homeowners regularly engage in volleyball, basketball, and baseball. The park even has a unique playfield for children of all ages.

Beat the desert heat by taking a dip in the refreshing pool offered at the Chaparral Aquatic Center. Visitors can also enjoy the high dive, splash pad, zero-splash pad, and lap swimming.
Go horseback riding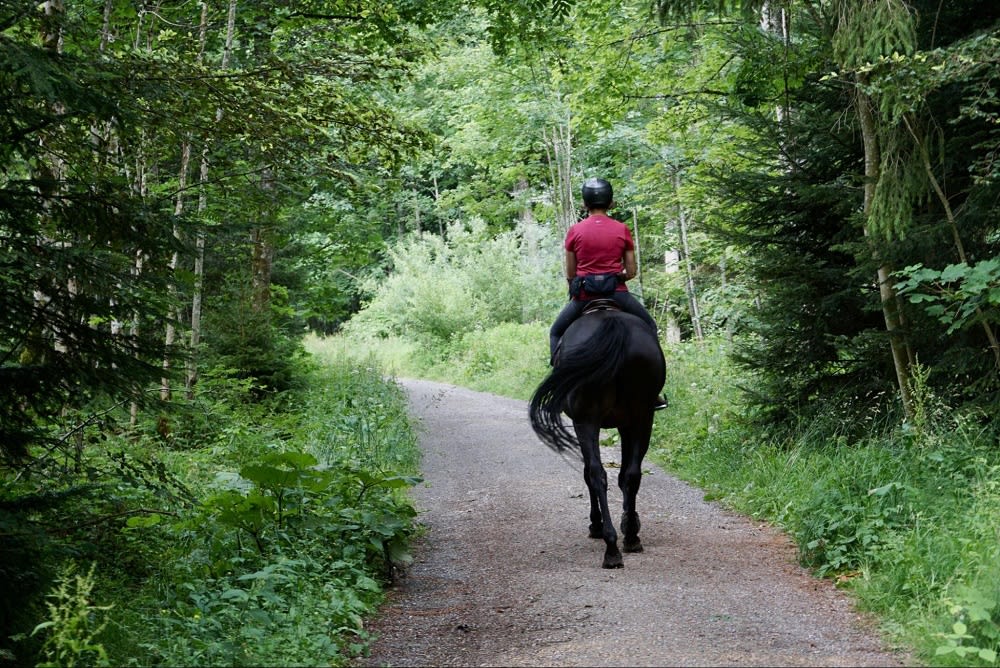 Horseback riding opportunities are endless in Scottsdale, courtesy of the numerous trails and events hosted by locals. Riding in the desert is crowned by the mountainous horizons. Professionals and beginners can enjoy guided tours on scenic paths, and the little ones can ride on ponies for their safety.
MacDonald's Ranch
offers a cookout in the desert for groups of eight or more. Desert campfires offer night owls an unforgettable experience and an evening of relaxation, especially under the starry sky.
Play golf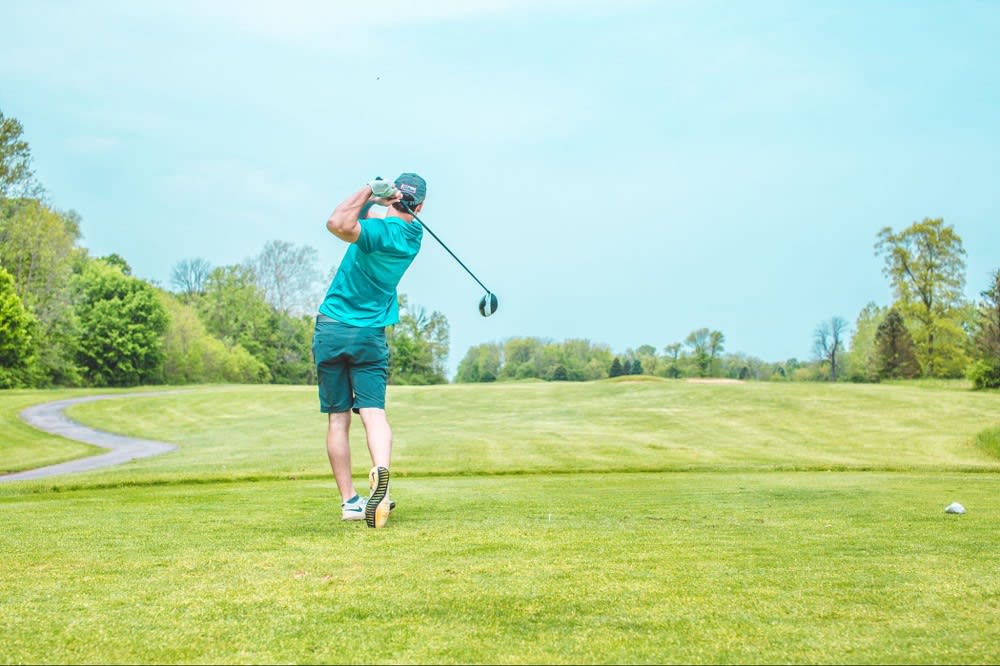 The magical climate of North Scottsdale has made it home to numerous golf courses. Although most golf courses are open year-round, spring is a great time to hit the tees and enjoy a fun day with friends. The considerable amount of courses means you can select a course that matches your taste.
There are also multiple tournaments for you to attend, starting with the Waste Management Phoenix Open. Visitors can enjoy the prestigious amenities offered at the Tournament Players Club (TPC) Scottsdale. Children and adults can hone their skills through private lessons while also taking a swing on the
36-hole
course to practice and win medals.
Topgolf Scottsdale
will offer you and your loved ones a golf-themed night out. The fun extends to aiming microchipped golf balls at dartboard-like targets while the little ones putt around on miniature golf courses. Other entertaining options include a driving range where you can practice long-range shots or go-karting with your friends.
Ride around the Sonoran Desert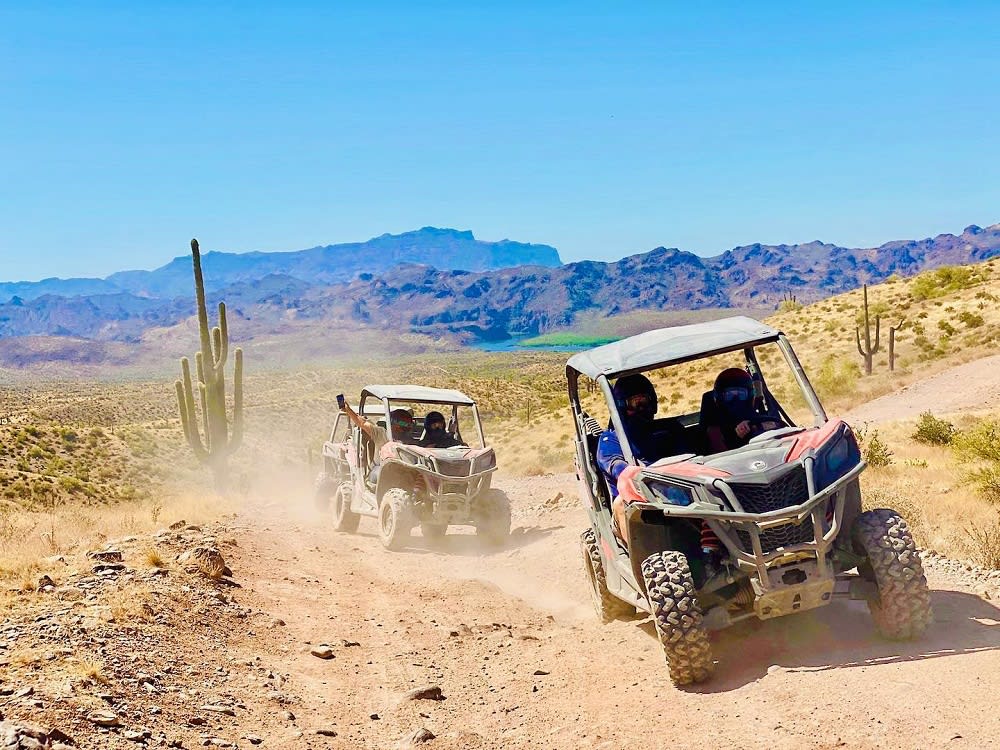 Photo courtesy of Desert Monsters Tours
Arizona is home to globally-acclaimed destinations; living in North Scottsdale is the first step to experiencing what most people only get to desire. Accessing the Grand Canyon, Tombstone, and Sedona deserts are now an effortless option, thanks to savvy entrepreneurs committed to making your stay in Arizona stress-free. Combining desert tours with award-winning destinations is a great way to exhaust all the goodies in North Scottsdale.
Shop at outdoor malls
North Scottsdale is filled with trendy outdoor malls and high-end retail stores that allow you to shop from one store to another while enjoying the warm Arizona air. Cool down by popping into your favorite clothing and appliance stores, or peruse through local art shops featuring breathtaking landscape portraits that you can take with you to remind you of your time in Arizona.
Visit the Scottsdale Civic Center Plaza
Scottsdale Civic Center Plaza offers visitors beautiful gardens, fountains, and sculptures to enjoy. Photography lovers will appreciate the natural beauty and spontaneous opportunities for photo ops.
Ride around the McCormick-Stillman Railroad Park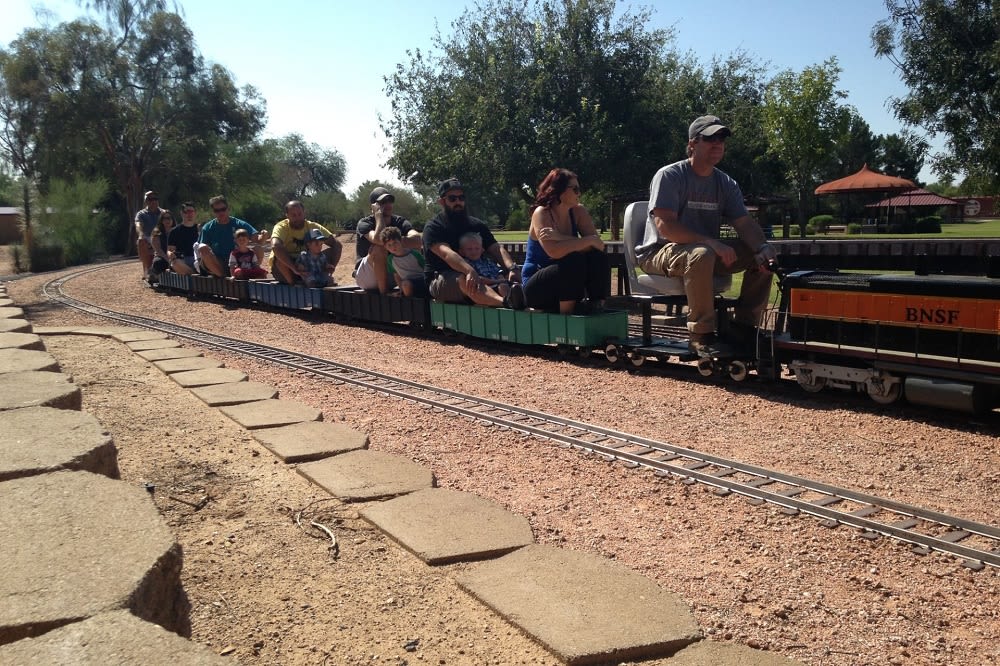 Photo courtesy of McCormick-Stillman Railroad Park Facebook
You must check out
McCormick-Stillman Railroad Park
if you are traveling with children. This fantastic attraction runs through a beautiful grassy park. It is not uncommon to see children shouting with anticipation as they board the miniature trains and create lifelong memories.
Reserve ATV and Hummer tours
Explore the Sonoran Desert with a heart-pumping experience as you ride around on an ATV. You can combine racing and exploration by inviting your friends to a challenge in the expansive Sonoran Desert.
Stellar Adventures
can also lead you on a guided tour of the desert in a Hummer. The tour will leave you quenched in the remarkable history of famous sites and a desire to explore other magical places in North Scottsdale.
Go boating at the Saguaro Lake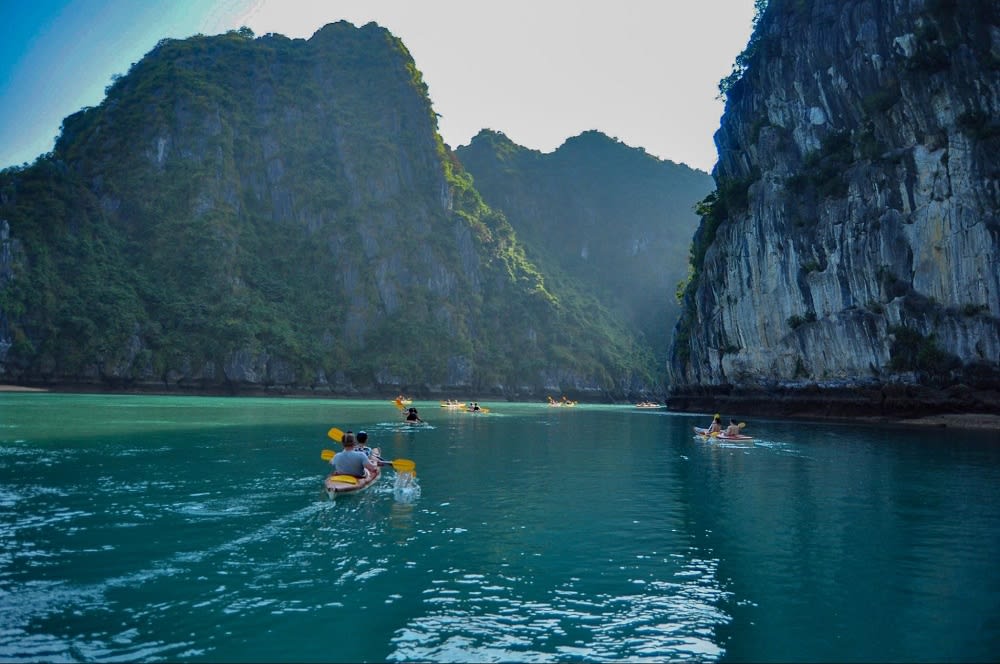 Saguaro Lake is an excellent attraction in Tonto National Park. This real-life oasis is conveniently-located outside of Scottsdale.
The lake is known for its boarding and boat racing activities, and water lovers can enjoy guided kayak tours. Fishing boats and pontoons are also available onsite, but reservations should be made early to secure your spot, as Lake Saguaro is a popular tourist destination.
The lake also offers guided cruise tours to ensure you don't miss historical details. The beauty of the lake is complemented by the cactus-dominated vegetation all around.
Saguaro Lake Ranch
allows visitors to choose from additional fun activities such as horseback riding and kayaking.
Ride a bike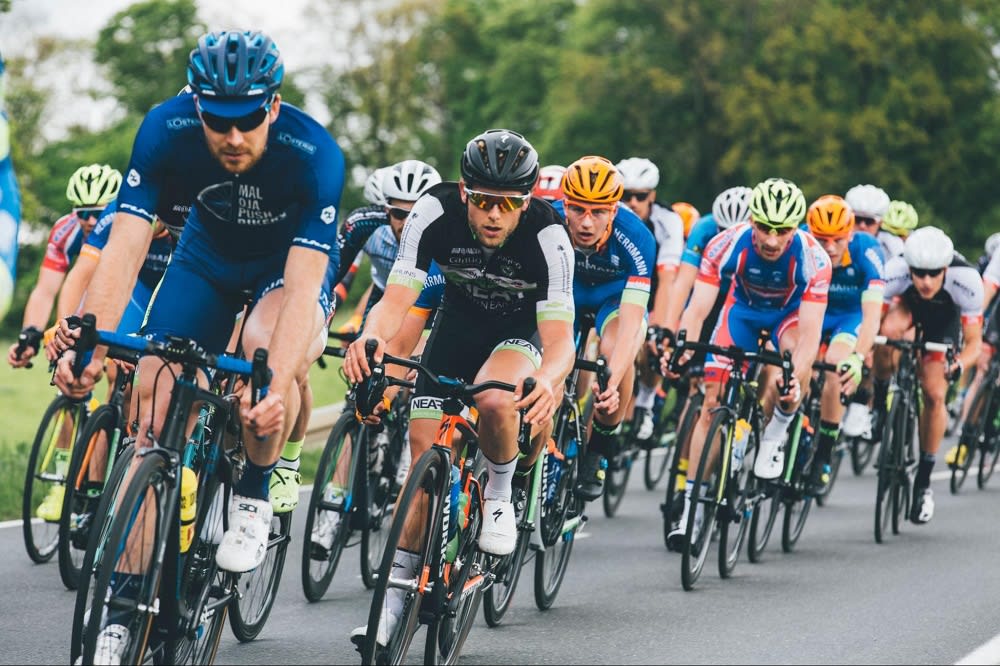 North Scottsdale is a biker lovers' paradise. The riding paths are well-paved, and bike rental shops like Pedego Scottsdale and REI Co-Op Experiences are conveniently scattered throughout the city. Getting out of the city on a bike is an excellent way to see the sights, and you have experts such as
360 Adventures
to guide you.
If you prefer shorter distances, you can opt for less-intimidating trails such as the Indian Bend Wash Trail. You can even choose to mosy around on e-bikes, which 360 Adventures also offers.
Attend a baseball game
Spring marks the start of the Scottsdale baseball season, as dozens of teams train in Arizona. The training scale has led to the dedication of several grounds, including the
Salt River Fields at Talking Stick
and the Scottsdale Stadium. Lawn seats are the best for families, as kids can run around safely as you watch the game.
The Arizona Diamondbacks play their home games in Chase Field throughout the MLB season. Visitors won't have to worry about the heat, as Chase Field is covered at the beginning of the game and opened when the temperatures become more relaxed.
Dine outdoors
Outdoor dining is better when it includes fantastic weather and an expansive menu. At
Olive & Ivy
, the restaurant offers the best Mediterranean cuisine with upscale menus and outdoor fire pits that are especially great for the winter. The outdoor dining options are numerous and themed to allow you to select one that matches your preferences.
Go on a golf cart excursion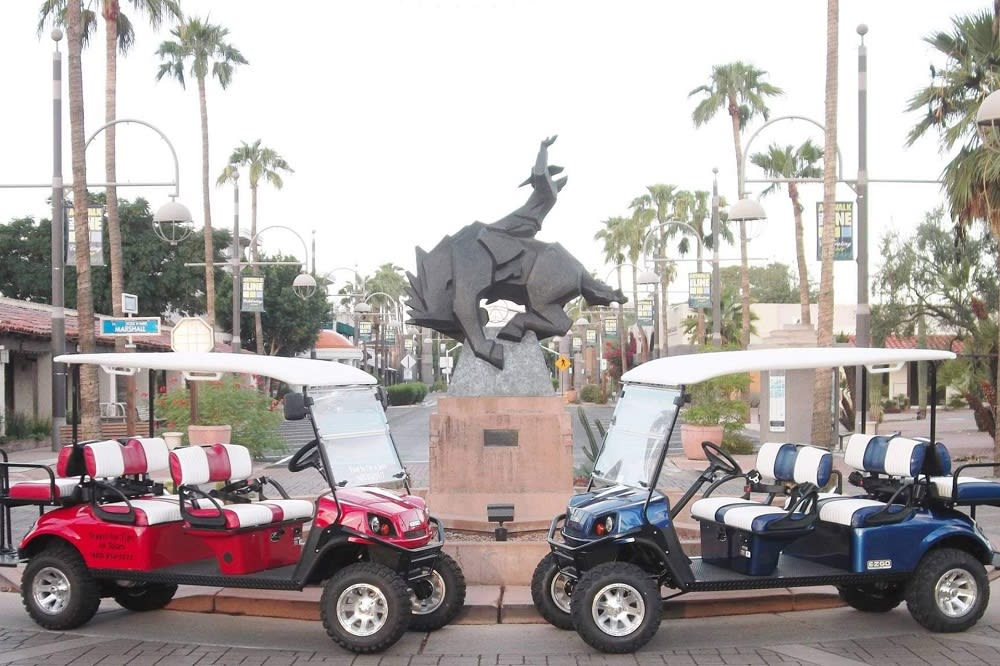 Photo courtesy of JoyRidesAZ Scottsdale Tours
North Scottsdale uniquely allows you to ride a golf cart across town! And the fun does not stop there — the golf carts have themes such as urban history, beer tasting, and even gelato sampling. Worry not about safety; the carts have safety belts.
JoyRidesAZ
offers group packages where you can reserve several golf carts to transport your family to numerous destinations.
Stay at amazing hotels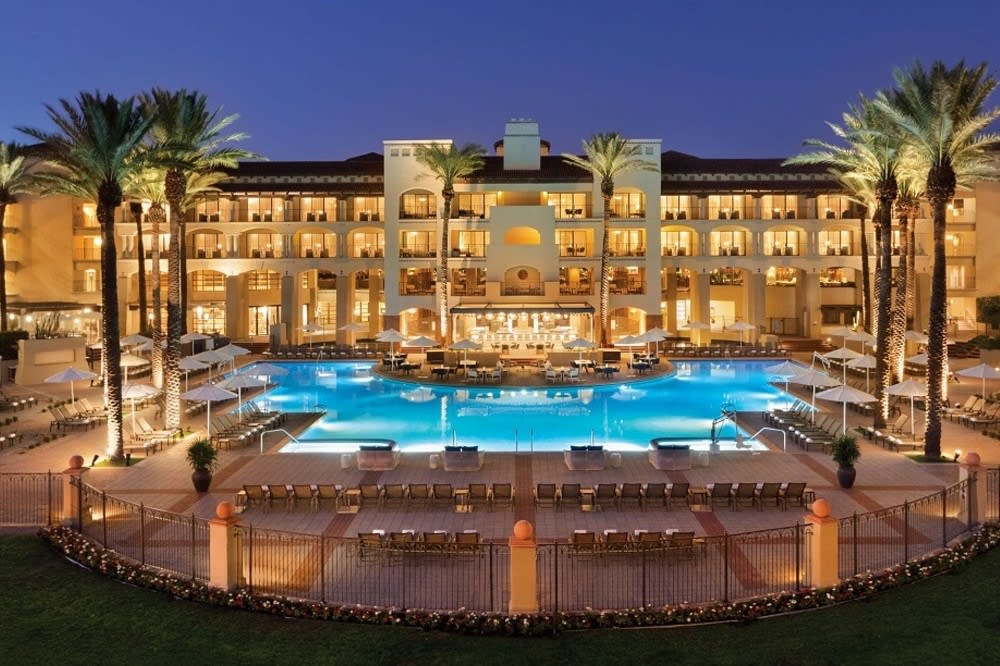 Photo courtesy of Fairmont Scottsdale Princess
The hotels in Scottsdale are awe-inspiring and guarantee world-class services with delightful swimming pools. What is a vacation without a unique watery oasis?
The Fairmont Scottsdale Princess
offers white sandy beaches, twisting waterslides, and several conveniently-located swimming pools.
Arizona's top hotels, such as the Talking Stick Resort, the Hyatt Regency Scottsdale Resort & Spa at Gainey, and The Westin Kierland Resort & Spa, boast countless swimming pools and exclusive pool parties. If you enjoy poolside gatherings, Scottsdale is the destination for you.
Own a piece of paradise
Living in North Scottsdale is nothing short of having your dreams come true. Residents enjoy professional opportunities and endless recreation events while owning a home in a serene neighborhood. Luxury homes are conveniently located, and there are fabulous home-style options for everyone.
Contact Jeff and Lisa Armbruster
to get the best of North Scottsdale luxury homes. Jeff and Lisa are experienced in the North Scottsdale real estate market and will help you achieve your dream by finding a home perfect for you and your family.